Sale!
Description
It is an all-in-one desktop robotic arm with laser engraving and cutting, 3D printing, drawing and writing to turn your creative ideas to life easily! Mass production has started and will be shipped in November! ✅Laser Engraving and cutting ✅3D Printing ✅Pick & Placing ✅Drawing & Writing ✅0.05mm Repeatability ✅Interchangeable modules ✅Expand With Linear Rails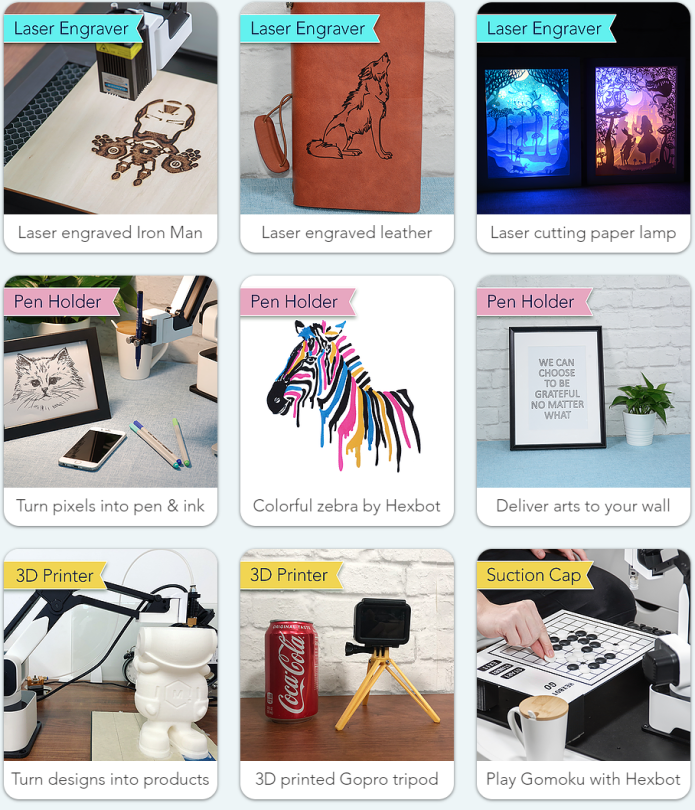 Build for makers and designers to bring their ideas to life, Rotrics's functional modular design is aimed to complete any task from simply grasping, drawing to 3D printing and laser engraving.
Order now and get it in November.
Three months after our Kickstarter campaign ends and with the support from our backers, mass production has started and the injection molds are finished. So, get your Rotrics now and you can receive it in November.

The decelerator is the core of a robotic arm, our patented decelerator design reduces the gap between gears, allowing 0.05mm extremely high repeatability. Empower the capacity for high precision laser engraving, 3d printing even lightweight industrial applications.
We hate handling screws and cables when using an intelligent product. That's why we creatively pack every function into a module to remove the unwanted screws on the end effector. Switch out modules in just one click!
Rotrics gives you an intuitive and interactive way to control and bring your ideas in just a few clicks with our software.
To keep Rotrics easy-to-use, we integrated Blockly into our software, which allows dragging and placing the code blocks to control Rotrics. Control a robot arm is as easy as play a board game.
We also provide an API for experienced developers to control Rotrics in Processing, Python, and G-code.  
To make controlling Rotrics even easier, we designed the 3.5-inch touchscreen allows you to check the status and command Rotrics within your hand.  Download the G-code files to the SD card and start drawing/engraving/printing. No need to keep connecting to your computer.