Sale!
Futuristic Coffee Table With Fridge
Description
Overview
✅ A futuristic coffee table with tempered glass top
✅ Perfect for living rooms, home theaters, man caves, or office lobby
✅ A built-in fridge that holds up to 68 cans of beer
✅ Voice control the fridge to pop up
✅ LED tabletop and nightlight with 160,000 colors
✅ Wireless charging spot for smartphone and charging outlets
Everyone needs the perfect table for their living room and bedroom. A fine wooden table may be the traditional choice, but why not make a modern choice for your home? this is a smart coffee table designed for the future. It's a statement piece that demands attention and delivers incredible performance.
This shining, futuristic, and sleek coffee table serves as a sound system, refrigerator, party hub, and storage space for any room in your home.
​
The Smart Coffee Table solves the age-old dilemma of having to leave the couch and walk to the fridge every time you want a fresh cold one. It has a built-in refrigerator, which allows you to grab a chilled beverage without ever missing a single moment from your TV or guests.
The built-in fridge can hold up to 68 cans of beer.  The cooling temperature is adjustable from 33.8℉ to 44.6℉ (1℃ to 7℃).It can also hold plenty of juice, snacks, goodies, and did we mention wine? You can now sip on a brew, tip a glass of vino and listen to Billie Eilish without ever leaving the couch.
​
Take control! You can command the cooler to pop up or wind down with a simple voice instruction. The Smart Coffee Table adds convenience and ease while entertaining your friends.​

360° Surround Sound for Party-ready
​
​
Add life to any party and experience the rich sound of your favourite music with the built-in Bluetooth stereo speakers. Pair it to your smartphone app and play the music from your phone or favourite streaming service. Use the voice controls to DJ any gathering and keep the party going.
Aurora LED Tabletop and Nightlight with 160,000 Colors​
​
​An incredible glowing LED tabletop has nearly infinite colors. Add ambiance to the room and watch a halo of LEDs phase, pulse, and shine in perfect synchronicity to the rhythm of the music. The Smart Coffee Table is the perfect centerpiece for any event.
​
​Get your totally under control with a powerful smartphone app! Synchronize your music, open the fridge. and customize full-color spectrum lighting for the LED top. The app, LED Chord, will be available on both the Apple Store and Google Store and gives you fingertip control of this.
The Smart Coffee Table also has Google assistant built-in. Using simple voice commands, you have access to virtually any information instantly. Enjoy Spotify or other streaming services, set your calendar, control lighting and smart home features, check the weather, order food, set reminders, and more. With this, you have a helpful home assistant ready to serve you anytime.

​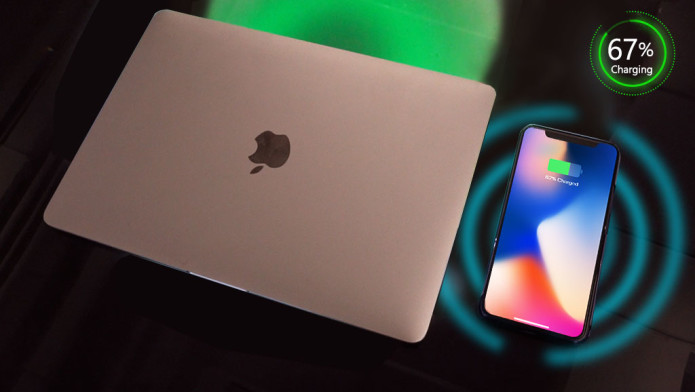 Two wireless charging pads are built into the top of this and the drawer below respectively. There are also built-in outlets for laptop, smartphone, and other devices, 2 USB 3.0 ports are inside the drawer to keep messy wires out of sight.
​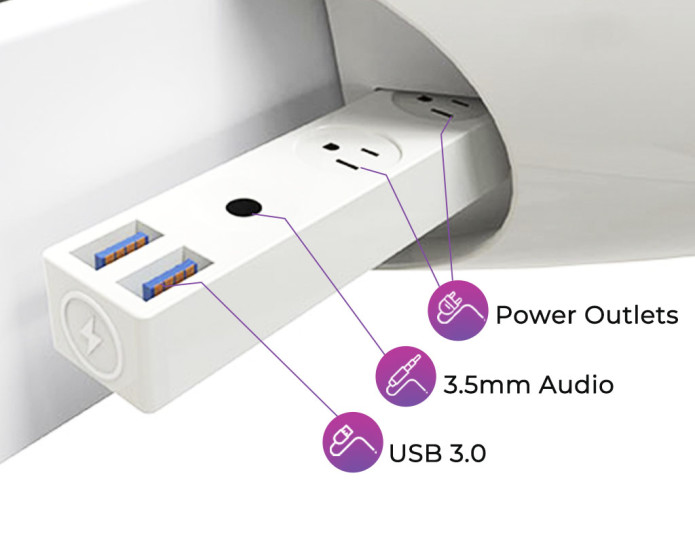 The coffee table is designed to be plug and play. Simply plug The Smart Coffee Table into a wall outlet and you're all set.
There's no assembling drawers or building furniture, just simply unbox your package and plug it in. Open the App and begin using it right away.

​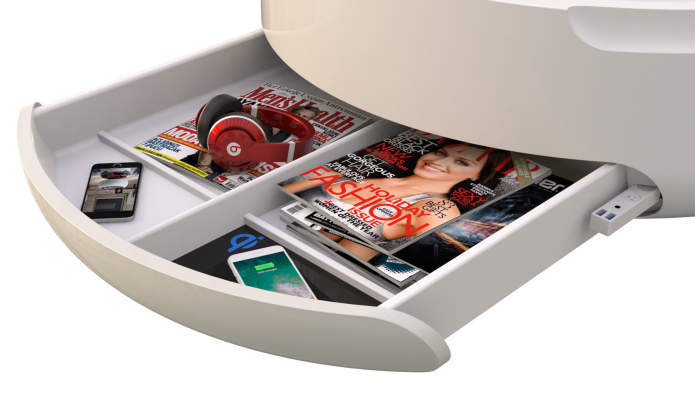 Store all your remote controls, snacks and magazines out of sight in the lower drawers. The round, sleek, the coffee table makes your home more convenient and organized!

The Smart Coffee Table is available in two colors (gray & white) and two sizes (50 & 70cm diameter/ 19.7 & 27.6 inches diameter) two sizes make it perfect as both a side table and coffee table, and its modern, contemporary design fits any home decorating style. Home holds 32 cans of beer/38 bottles of water, while Bar holds 68 cans of beer/75 bottles of water.
Use the larger Bar in your homes bigger spaces as a coffee table, sound system, party bar and centerpiece to take your home and social life to the next level.
Use the smaller Home in bedrooms and offices as a side table, voice assistant, organizer and snack fridge. The Smart Coffee Table adds form and function to any room in the house.